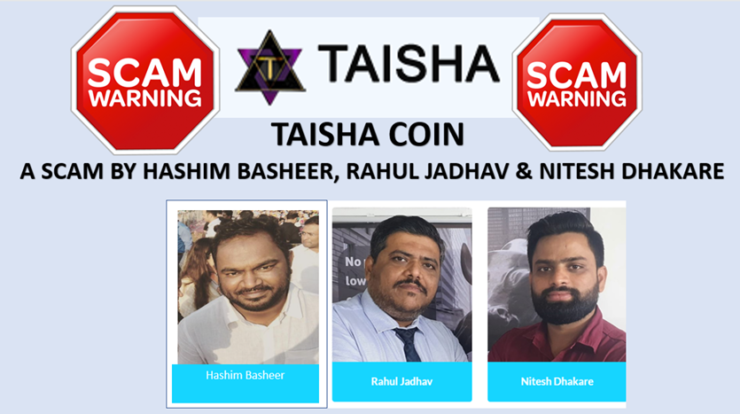 In this review, you will learn that TaishaCoin is a horrible scam that can only fail and lose money to everybody involved.
What is Taisha
Taisha (TAIS) is a Binance Smart Chain-based Token that has been created purely by a gang of Indian Scammers based in Mumbai, with the intention of duping people with their money. Despite all the fancy stories, projections, and false listing promises being shown on the website; the ulterior motive behind the Taisha coin remains crystal clear that is to loot investors of their hard-earned money. Let's dive deeper into the facets of Taisha Coin and why are we so confident that Taisha coin is a Scam right from the very beginning. You can check their website www.taisha.in .TaishaCoin has a circulating supply of 115,000,000 TAIS coins and a total supply of 115,000,000 TAIS. If you are looking to buy or sell TAIS, PancakeSwap (v2) is currently the most active exchange.
The main selling point of Taisha is that you can buy a cryptocurrency with Rupees. 500/- investment, also you supposedly will earn 5 to 15% per month on your investment. The minimum investment amount is 500 Rupees and you can enhance your earnings by referring other people to the platform.
Taisha scam
It is incredible that we even have to do this review, but no, TaishaCoin is not legit, it is a huge scam that you have to stay away from. Here is why.
Reflag – 1
How tactfully the introduction of Taisha coin has been derived from the factual information about Binance Smart Chain and BSC has been replaced ingeniously with TAISHA.
RedFlag -2
Taisha proudly says it is the continuation of SynergyTechLive, which is an infamous enterprise that does no longer exists as it had fraudulently made a lot of people invest in bogus shares using their excellent marketing and convincing skills. Synergytechlive with GSTIN 27AZMPB7487R1ZB  is not only a stock market fraud enterprise but also has deprived the governments of India (State and Central) of the GST amount collected from their clients. The premises is the same as that of TaishaCoin's address – 321, Third Floor, Ijmima Complex, Malad West, Mindspace, Mumbai – 400064
Redflag – 3
The notorious group of criminals behind this coin. Taishacoin has been created by a group of Indian Stock Market frauds namely Hashim Kallolikal Basheer, Rahul Balu Jadhav, and Nitesh Vinod Dhakare, alongside new faces like Nasir Haque and Dhiraj Bitra. Owing to the youtube publicity, they have even shut down their website www.synergytechlive.in.
RedFlag – 4
There are already few youtube channels that have started spreading awareness amongst the public to safeguard them from being scammed by Team of TaishaCoin.
RedFlag – 5
Coming from a land that created geniuses like the Matic Coin team, Taishacoin is a scar on the face of the Indian-origin Crypto-space, that is striving to exploit the absence of a regulatory body and watchdog for cryptocurrencies in India.
Background of the Team
Hashim Kalollikal Basheer – Mastermind behind Taisha Coin is a renowned scammer from Mirabhayandar Mumbai. There have been many instances of cheating, criminal breach of trust, conning people in the name of bogus stocks promising them that the same will be pumped and dumped, benefitting the investors. However, those are all just false promises given to convince the prospect to give him the funds (preferably in cash) so that no transaction trail is left.
Rahul Balu Jadhav – Co-founder of Taishacoin, Synergytechlive, and an equal beneficiary of all the duped funds collected alongside Hashim and Nitesh Vinod Dhakare. Both Rahul Jadhav and Nitesh Vinod Dhakare willingly collaborated in all the fraudulent investment schemes formulated by Hashim Basheer. They have a track record of having worked in Stock Market brokers like Globe, Sharekhan, Anand Rathi and have about 100 client complaints of having taken unauthorised trades in the client's accounts along with having sold them unlisted shares promising them wonderful returns. Besides this, the three have worked together in the created false trade volume of shares like ThinkInk Pictures, Aspire Homes (Motilal Oswal Group) as well as Orchid Pharma to name a few. The same can be investigated by SEBI and the concerned brokers on receiving client complaints.
The infamous team has numerous cheque bounce cases to their credit in Mumbai Courts, Thane Courts, Delhi Courts alongside cases of fraud, criminal breach of trust, criminal conspiracy. The supporting documents backing up the same are available upon request.
After seeing the background of the core team behind TaishaCoin, the fate of the project and the funds of the investors can be ascertained.
How Taisha works
Since Taisha is based on the same concept as Bitconnect, we know exactly how it works and how it is going to end. Taisha does not do anything real. It has no real cryptocurrency, just an internal token that can't be traded on any real exchange. The value of the token is determined by the people who run this scam. So they will sell you their TAIS token at the price they choose. You will give them real money, they will give you a worthless token. Until there are enough new depositors, the scheme will probably live and even pay out some profits.
But as soon as the Taisha scheme becomes unsustainable, which is sure to happen, people who run it will dump the rest of the TAIS token on the internal exchange to get as much money as possible, and then they will disappear. Taishacoin users will be left with accounts with the TAIS token that will be untradeable, its value will be zero. And because all the payments happen in cryptocurrencies, they won't be able to get their money back. This is how all Ponzi schemes end and this is how Taishacoin will end. It is only a matter of time. If cryptocurrencies continue to go up, they can live for a while, but they can also crash very soon, it is impossible to know. You have to stay away from it.
Is Taishacoin legit, should you invest in TaishaCoin?
The answer is a big NO.
Taishacoin review – Conclusion
TaishaCoin is a huge scam based on the already dead scam Bitconnect. It is all you need to know about it. Stay away from it in order not to lose money.
If you are interested in legit crypto investing, try it first on a demo and choose wisely among legit cryptocurrencies that have trustworthy founders.
Before investing real money you have to make sure that you understand the risks.
More Information –
#taisha coin #taisha coin crypto currency #taisha coin price #taisha token #hashim basheer scam #rahul balu jadhav scam