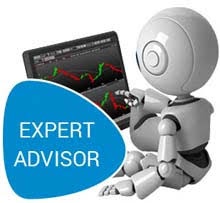 Forex trading is possible both manually and automatically. In manually trading, a trader researches and analyzes the market and searches for opportune moments to open trading positions for him. In automatically trading, the trader does not participate in the trading process. Rather he just starts the trading robot which does the analysis of the market and looks to enter the market by itself.
HOW TO USE AN EXPERT ADVISOR?
Many traders are interested to know the functioning of the forex robot. Traders are curious to know the principles of trading which are used by expert advisors. There is also a lurking question of security and the chances of financial risks. Usually the traders tend to trade using the trading robots. However, the professionals in the market rarely prefer this method of trading. Mostly, they are engaged in the development and testing of these robots. The quality of work of any trading robot is based on the professionalism of its author. In this case the principles of the expert advisor are based on a specific algorithm. As the forex robot has been developed by human, the standard process of trading comprises of the following steps that forms its basis:
Market Analysis: By integrating the technical integrators with the advisor, market analysis is conducted and signals are given about open positions.
Order opening: Based on a set of algorithm, positions are automatically opened when signals are received from two or more indicators. Simultaneously, orders are stopped when an upcoming trend reversal is signaled or stop orders are triggered.
DRAWBACKS OF EXPERT ADVISORS
Around the globe more than 3 trillion dollars are transacted on daily basis in the forex market. There is a general perception that receiving a huge profit is relatively high in forex. Expert advisor carries out the trades automatically depending on specific strategies. But there are certain disadvantages too of an expert advisor which are as follows:
In order to function properly, it must run on a VPS or a computer in a 24/7 environment
On certain dates of high volatility, a majority of the robots do not operate
Chances of misusing the forex software for wrong purposes by new traders
Traders might think that since it is an auto trading option, there is no need to understand anything regarding the Forex market and completely rely on these expert advisors
Lack of information is evident in forex robots when there is a program that is non-programmable. Therefore, there is a need to take a look at the bigger picture
Intruding manually in the software during trading might rupture it and may result in losing trades
However, expert advisors are gaining more and more popularity within the forex market and there are plenty of them. Thus it becomes difficult at times to get the right robot/advisor, but it is not impossible too. As mentioned above there are cons in utilizing forex expert advisors too and people should be careful and attentive while using or working with them.